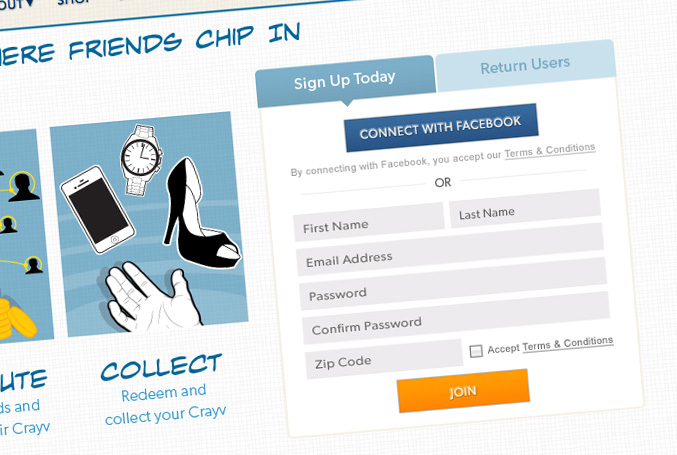 Respect the Process, Don't Fail Before You Start
I love the fact that our clients respect process. What I mean is that when clients come to us, they either are set in stone for knowing what they want and you can't deviate from their grand vision or they have no idea what they want until you tell them what they need. Ultimately, with any client/provider relationship, both parties need to enter it without any expectations other than success and achieving the "goal".
That being said, we were approached by Crayvit a little over a year ago to help them with cleaning up and defining their platform. Over the course of a year, we've helped them define their offerings, set launch expectations, defined their user's experience and helped form their brand. That's a lot of moving parts.
With user experience and interface design, rarely do you hit the nail on the head every time. Every day, there are new experiences being defined, new actions developed and new ways for mass users to consume information. So, when introducing a completely new concept/platform, there are definitely challenges to understanding user behavior, patterns and thinking.
With the redesign of Crayvit's landing page, we thought we exhausted many thought patterns, user conclusions and interactions. Truth be told, we even tried mimicking many standard user interface principals, so to increase the product adoption. This spelled success in many areas for us. But it also showed room for improvement in many other areas, hence the reason for the client's current versioning request.
Below, you can see how we definitely tweaked the user interface in order to increase immediate adoption. Just a few things to note, we brought the sign up form directly onto the landing page. We also positioned the opt-in choices carefully, ultimately promoting a Facebook entry point. Secondly, we currently digest information more quickly with imagery. So, we kept our visual presentation of the product platform intact, but this time added short descriptions of what each illustration represents. A few other tweaks we worked on were cleaning up the returning user's login to allow cleaner/easier access. And last, we dropped the color sectioning of the page, which created more separation of the information. The new page is more fluid and easier to consume from the user's stand point.
Now, we will implement, test and record user adoption. This is a good day. Client is happy. We are happy and ultimately, we are building better products for this effort. Moral of the story, don't build walls and hurdles that limit your ability to create truly good products. When you limit your ability to create, you have failed before you have started.