Bonita Taqueria Y Rotisserie

When the owners of San Francisco Marina's hottest new Taqueria asked me to come in and help with their branding and identity efforts, I was more then eager to step in and help out. Being a big of a food snob myself, I really wanted to step in and build a presence for my client as great as their food! After a few meetings and understanding exactly what they were looking for, I presented several different concepts, ultimately deciding on the Bonita Flower concept. I worked in parallel with the interior designer, main chef and owner to create a look and feel for their brand as well as their menus, website and food presentation/photography. Overall, it was a rewarding project with rewarding results.
Bonita Taqueria Y Rotisserie
Branding, Web Design, Photography
Responsive Web Design
Since the nature of our culture is to own a smart phone, we knew we would have to make the website fully responsive. Based on my work with other restaurants, I knew that there is a decline in using To-Go paper menus, but an increase in the ability to view the menu online. The solution was to create a site which looked great on desktop as well as mobile. Powered by WordPress, the solution was simple and easy to manage.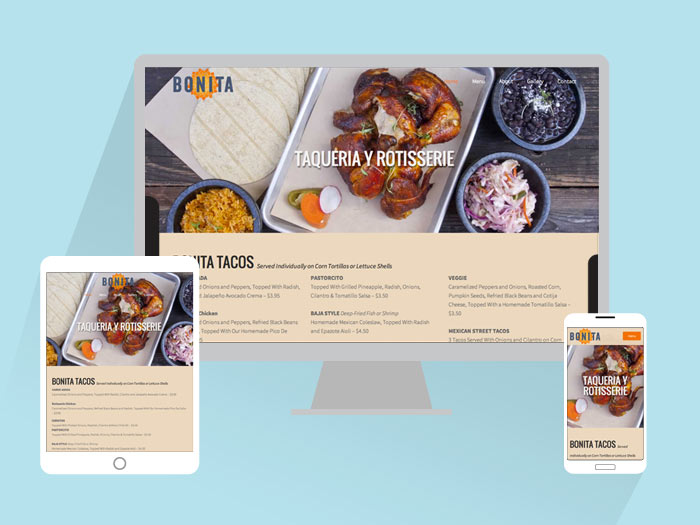 After creating a successful logo, menus, signage and a website, we still were missing professional photography. I had already known how I wanted the food to be shot and styled, so with the vision in mind and the trust of my client, I decided to take the bull by the horns and coordinate my own photo shoot. I have done food styling previously, assisting in shoots where I art directed, so I was my own art director, stylist and photographer for this series. The client was quite happy with the end results.