TensorFlow is an end-to-end open source platform for machine learning. With it's product having gone through a complete overhaul and it's website relaunching, Google asked that we design a new email campaign template for it's launch and monthly newsletter announcements.
Initially, no content was provided by the client. We were directed to design a template to accommodate both large and small amounts of copy as well as using icons versus no iconography.
Because we have a solid working relationship and history of strategy with the client, we could assume how many lines of copy would be acceptable and what type of iconography we could borrow from their rich library of elements.
Creative Direction Caroline Cahill Canty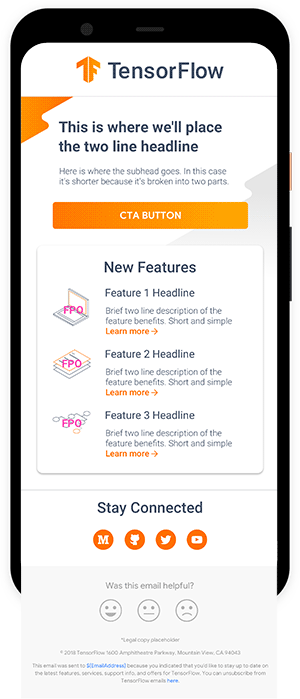 After three rounds of design with the client, they provided specific feedback. The let us know which design direction they would like to move in as well. Given this feedback, we were able to utilize specific copy from their website and pick up various icon elements from their style guide to provide the client with a design template they were happy with moving forward with.