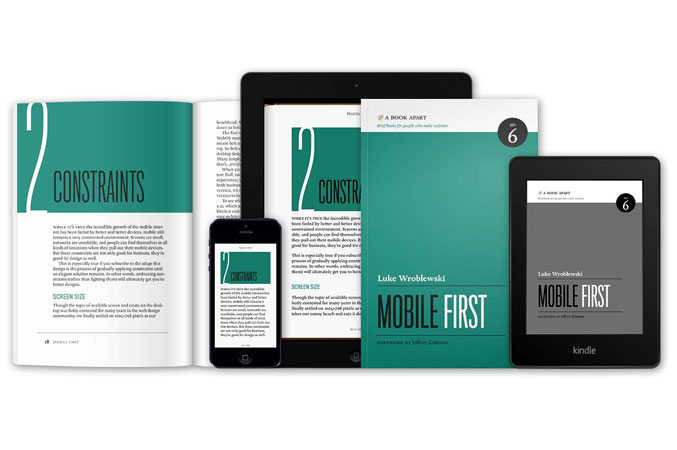 Recommended Reading: Mobile First
Mobile First by Luke Wroblewski
The title alone says says it all – everything you need to know about the philosophy of designing for Mobile First. This book isn't just an approach or strategy for designing for mobile platforms first, it's a mindset, a philosophy and a must for evolving User Interaction design.
The book rapidly dives into examples and case studies which outline the case to support the main title. Inherently, the very foundation of Mobile First is to keep communication as simple and direct as possible. Over the years, the evolution of the web has seen Flash animation, video integration, landing pages, pop-up windows, browser adjusts, etc. All of these types of media and techniques have done their part to try and enhance the User's Experience, but in the end, none have seemed to truly hold on to the user's ideal way of interaction. Mobile First's job is to further convince you that by designing intelligently for the lowest common denominator, you are ultimately tailoring how content is delivered quickly and efficiently, better defining the user's overall experience. Ladies and Gentlemen, this is communication.
With web standards and optimization rapidly being adopted by developers and designers, working within constraints means understanding the medium. Luke Wroblewski does a fantastic job on proving that, although mobile is rapidly developing, the only way to be able to create for it is to simply dive in. Good advice too, because mobile is not going anywhere. With smartphone and tablet sales on the rise, we are going to continue to see the growth of both native and non-native applications, gestures, usage, etc. I, for one, have already changed my philosophy, strategy and approach towards User Interaction design simply from this book and in a very good way. It is imperative, as a designer of User Interaction, to not only understand this important mobile transition, but embrace it and start implementing it into your workflow before you get left behind.